5 Things I Can No Longer Live Without
As a minimalist, I don't own many things, but in recent years, there have been a few notable items that have made their way into my possession. These things have had such a significant impact on my mental and physical health that I feel it in my heart to share them with you and your family. Everyone experiences stress in life, but more often than not it reaches a level that outright overwhelms us. The first two items, in particular, have literally changed the way I live each day. Every day I wake up and go to sleep feeling at peace. No matter what awaits me or what happened that day, I sleep soundly knowing that I have approached the day as my best self. I hope they bring great change and joy into you and your family's lives too!
The never-ending pull for our attention has only strengthened in recent years with our use of the Internet, devices, and technology that scream advertisements at us all day long.
Distractions + Lack of Clear Purpose For The Day = Incompletion And Most Likely A Day You Come To Regret.
Now I'm all for productive habits, but most are too time-consuming or complicated to continue long-term.
The 5-minute journal takes… 5 minutes. It's the one and only journal you'll ever need to start AND end each day with a smile and a strong sense of pride for what you've accomplished. It has quite literally changed my life in more ways than one, and to be honest I see a significant difference on days that I write in it and days that I don't. It has helped me set out each day with gratefulness for the abundance that I already have (but didn't realize I had). It gives me clarity and most importantly, the ability to re-focus each time I get distracted with other seemingly more important or urgent tasks and get back to the tasks that are truly important to ME.
The journal is divided into two main sections as you can see in the photo below – morning and evening. It has a new inspirational quote at the top of each page and spaces for you to write:
3 things you're grateful for
3 things that would make today great
Daily affirmations
3 Amazing things that happened today
How could I have made today even better?
If you struggle to look for a reason to get out of bed earlier, or have lost meaning or value in what you do or already have in your life, then this journal is especially for you.
I've tried many other journaling books but this is the one I now can't live without. May it bring you countless blessings, smiles, and wonderful changes in life!
You can get your hands on one of these journals HERE.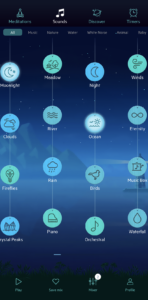 I think almost every human is built with a minor case of ADHD… We get distracted by butterflies, social media notifications, and well, almost anything really. We try to do it all – juggling and switching between countless tasks throughout the day. Often by the time evening hits, we realize that we somehow managed to do everything other than the two tasks or activities that truly mattered to us.
The Relaxation Meditation app is like a wind that sweeps through and clears my crowded, chaotic mind in under 5 minutes. I use it to release any built-up stress, to do yoga, and just clear my mind of that daily confusing mix of loud thoughts.
I usually do one guided meditation session (which usually takes just 5~7 minutes), then write my 5-minute journal entry. Doing this ensures that I write down the three tasks for the day that truly matter to me.
I feel that this application goes hand in hand with the 5-minute journal (see #1). I love it because:
It has simple guided meditations for almost every situation or struggle in life – relationships, creativity (creative blocks), stress, improving focus, commuting, sleeping, dreaming and so many more.
They have sessions as short as 6 minutes.
You have the option to sit/lay down and relax with the music without any guided meditation.
You can make your own music with it! You can mix and match with over one hundred different sounds to create your very own unique meditation mixes.
It's free to use their 5-day Introductory Path to Meditation and test out over 50 of their sounds.
If you decide to upgrade to pro and gain unlimited access to all of their features, you can buy the pro app outright for just $19.99 and never have to pay a subscription fee again by selecting their lifetime subscription option. This is MUCH cheaper than their monthly or three-month subscriptions (the monthly one is $9.99 per month)! Most apps in the world don't offer the option of buying unlimited access outright – they make you keep paying for the rest of your life… I honestly can't believe that they still offer this option! (NOTE: I don't receive any sponsorship or commissions for you downloading or purchasing the pro version of the app whatsoever – I'm just so satisfied with the app that I felt I had to let others know about it!)
You can get your hands on this app for FREE HERE.
Wait… what? Yes, a tongue scraper. It almost sounds like a torture device from the medieval ages, but I assure you it's not.
For most people, scraping their tongue with a tool like this as part of their daily teeth hygiene routine is probably still a foreign concept. Yet it's something that's been practiced for over 6000 years! In India, it's very normal for parents to teach their children to clean their tongues with a proper tongue scraper before brushing their teeth. Every evening, while we are sleeping, our bodies perform a cleaning process. In the morning when we wake up, our tongues are covered in a layer of bacteria and toxins that our bodies have disposed of. This is what causes bad breath! If we don't clean them off properly with a tongue scraper, then all those bacteria and toxins are left to either linger on our tongues or worse, be swallowed again when we drink or eat; nasty I know!
It's important that you use a metal or copper tongue scraper rather than a plastic one. I found a two-pack that is compact, and very reasonably priced (only about $10 for the pack, making each tongue scraper just $5!). I gave the other one to my husband and he said it was our best purchase of 2020! That's saying a lot as my husband has roots in Minnesota, which means he usually doesn't express a great level of joy for anything verbally!
The one I have has fantastic reviews by over a thousand people and I personally have never seen or felt my tongue so clean!
You can get your hands on the same tongue scraper that I love and trust HERE.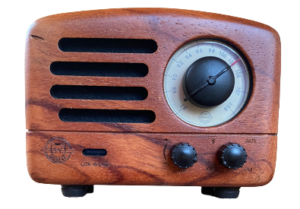 Wow that's a mouthful, isn't it? And to think that this title doesn't even scratch the surface of just how awesome this speaker is!
I found this unique little guy a couple of years ago and people have been constantly asking me where I managed to find it! Well, now that I'm writing this post, the secret's out! I have received so much joy just from looking at its gentle aesthetics while listening to music, and I hope it can do the same for you!
At first, I fell in love with its aesthetics alone, but I later found out that it can actually tune in to local radio stations of whatever country or location you are visiting! For an avid traveler and antique-lover like me, this has made my travels that much more exciting! It can connect to Bluetooth and has an audio input for us old-schoolers. To top it off, the sound quality is superb and the battery life is fantastic for the price! At a normal volume, Bluetooth plays for up to 10 hours and the radio plays for a whopping 20 hours. And because this baby comes with a super light carrying case and strap, you can even take it hiking!
You can get your hands on my awesome retro speaker HERE 🙂
5. My Detangling Brush
Yes, I was one of those people who were OH SO SLOW to find out about these brushes. At the tender age of 29, I discovered this angel in disguise.
All my life I've been struggling with detangling my hair with what I thought were decent brushes… Well, boy, was I out-of-the-loop regarding how much our civilization had advanced. If you happen to be someone who still hasn't experienced the ease of detangling your hair with one of these bad boys, you're in for a real treat.
You can get your hands on one from:
Amazon JAPAN

HERE

.
Amazon US HERE. (NOTE: The Amazon US product is a different brand to the one from Japan, but still has fantastic reviews!)
Special thanks to J. Kelly Brito on Unsplash for her photo (the featured photo of this post)